Sinaloa: Mexican Army Nabs Three Bad Guys
2010-07-10
Posted by: badanov
Google Translate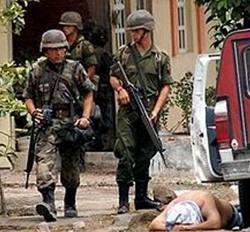 Crossposted at Rantburg.com
A Mexican Army unit travelling in Sinaloa at night was involved in a shootout with armed suspects riding in a convoy, which led to the arrest of three and the seizure of weapons and vehicles early Friday morning, say Mexican new accounts.
Elements of the Mexican Army 24th Motorized Cavalry Battalion, 9th Military Zone was travelling near the village of San Pedro La Laguna at about 0020 hrs. when they were fired on by armed suspects riding in a convoy of at least eight vehicles.
The ensuing firefight lasted several minutes until the suspects retreated from their position. Three suspects were captured.
Roman Damian Ochoa 40, of Navolato.
Martin Lopez Garcia, 30 of Navolato
Gabriel Cuevas Valenzuela, 43, of Navolato.
Weapons eized were: one AK-47 assault rifle, two AR-15 assault rifles, two 40mm grenade launcher attachments, one 9mm submachine gun UZI type, one .45 caliber pistol, two Super .38 caliber pistols, one .38 Special, three 40mm grenades, 37 magazines and 2,634 cartridges of various calibers.
Vehicles seized: One 2009 Nissan Pathfinder (stolen),one Jeep Wrangler (stolen), One 2009 Mazda CX-9 (stolen), one Nissan pickup truck (stolen), one Chevrolet Tahoe (stolen) with bullet impacts, and one 2005 Chevrolet Trail Blazer.
Other materiel seized: Two tactical vests, two kevlar helmets, one generator and radio equipment.

If you have something to add, Fire Away!

Number of Comments so far: 0

Click here for a list of stories in the War and Military category